Courses
Fall 2018
1 Session
The First Annual Leadership Institute Alumnae Retreat
For the members of cohorts 1, 2, 3, 4. 
At Spirit of the Desert Retreat Center.
Keynote Speaker:  Julianna Storch Cohen
Manager, Special Projects, Former Chief of Staff, Office of the CEO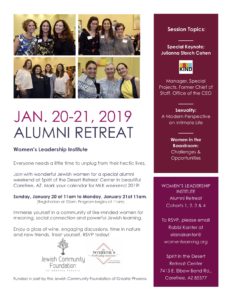 $50.00 Enroll - $50
4 Session
A. Tea and Torah: The Heart of Torah, Rabbi Shai Held
Mondays at 4pm
November 5, 12, 19, 26,
Join us for Tea and informal Torah conversation on Essays from Rabbi Shai Held's book, The Heart of Torah.
Nov. 5, Parshat Toldot
Nov. 12 Parshat Vayetze
Nov. 19 Parshat Vayishlach
Nov. 26 Parshat Vayeshev
$125.00 Enroll - $125
Semester Courses
B. Joan's Class: Jewish Literature and Jewish Life
Mondays at 10:00am
Oct. 8, 15, 29 Nov. 5, 12, 19, 26 Dec. 3, 10 Make Up Dec. 17 if needed
Joan Beren, zichrona livracha, was a beloved and regular participant in this class for many years. Each fall, as we inaugurate a new year of study, we begin with a short tribute to Joan, a person who embodied both a love of Jewish texts and a love of Jewish life.   She was an inspiration to those of us who knew her, and her memory continues to be a blessing for us.

Join women from a diverse cross-section of the Arizona Jewish Community.  We'll be reading and completing Dalia Rosenfeld's "The Worlds We Think We Know"
$225.00 Enroll - $225
C. Tuesday Morning Talmud
Tuesdays at 8:00am
Oct. 9, 16, 30 Nov. 6, 13, 20, 27 Dec. 4, 11 Make Up Dec. 18 if needed
The Talmud teaches us  how to argue from different points of view, how to consider multiple angles on any subject, and how to express values through legal language.  Fall Topics and Sources:
Talmud 2018-2019
Hagiga 10a: rabbinic law is like a mountain hanging by a thread
Hagiga 14b: four entered the Pardes (2x)
Rosh Hashana 25a: Violating Yom Kippur to prove a point.
Rosh Hashana 28b: Do commandments require kavvanah (intention)?
Rosh Hashana 33b-34a: Why do we sound the shofar the way we do?
Ta'anit 21-22: What ordinary people do to earn a place in the World to Come
Ta'anit 23a: Honi the Circle-Drawer
Yoma 23a: Kohanim gone wild: When blood is spilled at the altar
Sukkah 29b-30a: Can one perform a mitzvah with something stolen?
Yevamot 24b: What is the status of a conversion for the sake of marriage?
Yevamot 62b: how 24,000 students of Rabbi Akiva suddenly died
Ketubot 7b-8a: the seven wedding blessings
Ketubot 9a: double doubt in the case of a claim about a bride's non-virginity
Ketubot 22a: "the mouth that forbids is the mouth that permits"
Ketubot 31a: when a more serious punishment applies, the lesser punishment is waived
Ketubot 62b-63a: when too much Torah gets a rabbi killed
Kiddushin 29a: time-bound positive mitzvot
Kiddushin 31a-32b: honoring parents
Kiddushin 39b: what is the reward for observing the commandments?
Gittin 55b-56a: the story of the destruction of the Temple (Kamtza, bar Kamtza)
Gittin 56a: the escape of Rabbi Yohanan ben Zakkai (3x)
Gittin 60a-b: how was the Torah given, scroll-by-scroll or all at once?
$225.00 Enroll - $225
D. Online & Distance Learning – Parshat Hashavua
Tuesdays 11am Pacific, 12pm Mountain, 1pm Central, 2pm Eastern
Oct. 9, 16, 30 Nov. 6, 13, 20, 27 Dec. 4, 11 Make Up Dec. 18 if needed
Join women from Arizona, Alabama, Michigan and Israel through Zoom.  We'll be tackling the weekly Parsha using Rabbi Shai Held's new book, the Heart of Torah.
$250.00 Enroll - $250
E. Women's Leadership Institute – Cohort #4
Tuesdays 7-9pm
Sept. 6 (Thurs), Oct. 9, Oct. 30, Nov. 13, Dec. 11 Jan. 13 (Sunday Retreat) Feb. 5, Mar. 5, Apr. 2, May 7
PJ Library and The WJLC Joint Project on Women's Leadership.  In addition to the Tuesday evening group meetings, there are 4 other events that are part of the program:  1) Opening Retreat, 7pm Sun., 9/2 through 2pm Mon., Labor Day 9/3; 2) Oct. 30 Agency Night;  and 3) Mid-year Retreat, Sunday, Jan. 13 9am-3pm  4) Feb. 10 Limmud AZ  9am-4pm