Events
Reflect and Recharge: A Jewish Women's Retreat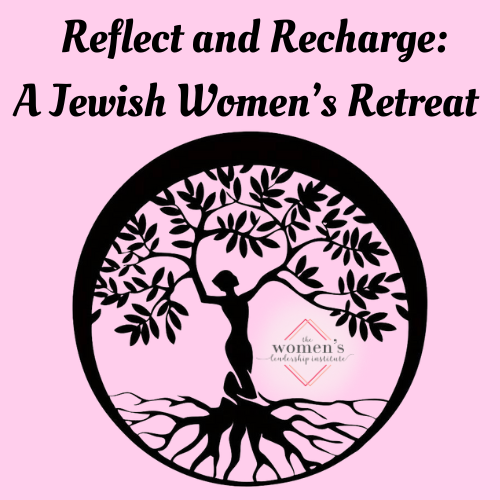 Reflect and Recharge: A Jewish Women's Retreat is a transformational experience created to nourish, sustain, and strengthen your mind, body, and soul. You will join Jewish women of all ages and life experiences to build camaraderie through immersive programming tracks that create intentional space for self-awareness and personal growth. Attend with friends and family or walk through the imaginary retreat portal with an open mind to making new friends, networking, discovering something about yourself that you never knew, finding a mentor, or discovering an opportunity to mentor.

Limited to the first 50 women who register, our Reflect and Recharge: A Jewish Women's Retreat is modeled after similar getaways for Jewish women in numerous locations around the US where women explore their unique Jewish journeys and connect deeply across differing spiritual backgrounds and levels of observance. Break free from your daily routine and responsibilities and invest in yourself by taking time to explore the joys of playing and learning and relaxing and growing in the spirit of empowered womanhood!

Our setting will be an award-winning Center along one of Phoenix's beautiful mountain ranges. Amenities include:
climate-controlled cabins, each with an ensuite shower, commode, and sinks
twin size beds, 4 women to each cabin
classrooms for self-expressive art projects
meeting space for discussion groups delving into Jewish history and culture
nature trails for contemplative space
an outside stacked stone amphitheater and adjacent turf for morning yoga, sunset Kabbalat Shabbat (literally, "Welcoming Shabbat") and Shabbat morning tefilla (prayer)
a traditional fire circle around which we will create those s'mores of childhood memory
a commercial kitchen from which 5 delicious Kosher-catered meals will be served
Basics:
Who: YOU and other Jewish women, ages 21 to 121

When: Friday afternoon, March 29, 2024 (arrive anytime between 2 p.m. and 5 p.m.) through Sunday morning, March 31, 2024 (program ends at 11:30 a.m.)

Where: Address available upon registration or by reaching out to Rabbi Elana Kanter at elanakanter@womenlearning.org

Why: Because from the time we can remember, our comfort, safety, sharing, learning and celebrations of life's milestones have been magnified and enhanced through the women in our lives

Cost (includes 5 catered Kosher meals, all snacks and beverages, and all activities):
-Early Bird Registration of $275 begins October 16, 2023 and runs through January 16, 2024
-Full Registration of $299 begins January 17, 2024

Cancellations:
We are sensitive to the challenges of planning and committing to an in-person experience because, well, life happens. Our cancellation policy is a balance between financial and human resource commitments we have to make and sensitivity to your busy life. Our deadlines are set with this balance in mind, after which we are unable to make refunds beyond those described below:


Cancellation on or before February 19, 2024 will result in a fully refundable registration fee
Cancellation on or after February 25, 2024 will result in a 20% cancellation fee
Cancellation on or after February 26, 2024 will result in forfeiture of your registration fee
For scholarship opportunities or other questions, please contact Rabbi Elana Kanter at elanakanter@womenlearning.org.