Courses
Spring 2023
Semester Courses
1. Joan's Class: Frankly Feminist, Short Stories from Lillith Magazine
Mondays at 10:00am
Jan. 9, 23 Feb. 6, 13, 20, 27 Mar. 20, 27 April17, 24
Hot off the press, Frankly Feminist is a collection of short stories that have appeared over the years in Lillith Magazine.  We'll dive right in.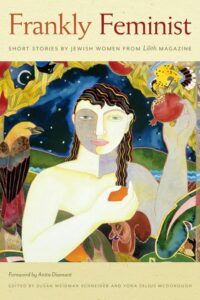 $250.00Enroll - $250
2. Tuesday Morning Talmud
Tuesdays at 9:00am
Jan. 17, 24 Feb. 7, 14, 21, 28 Mar. 21, 28 April 18, 25
According to Senior Jewish Educator, Lex Rofeberg, the Mishna is "the best book you've never heard of."  Why?  Because the Mishna usually gets overshadowed by the Gemara, its accompanying commentary.
This spring, we will give Mishna its due, beginning with Seder/Section Zeraim/Seeds, and continue from there.  Join the journey.
$250.00Enroll - $250